September 5, 2018
---
Confidence Boosting Options by Dr. Perez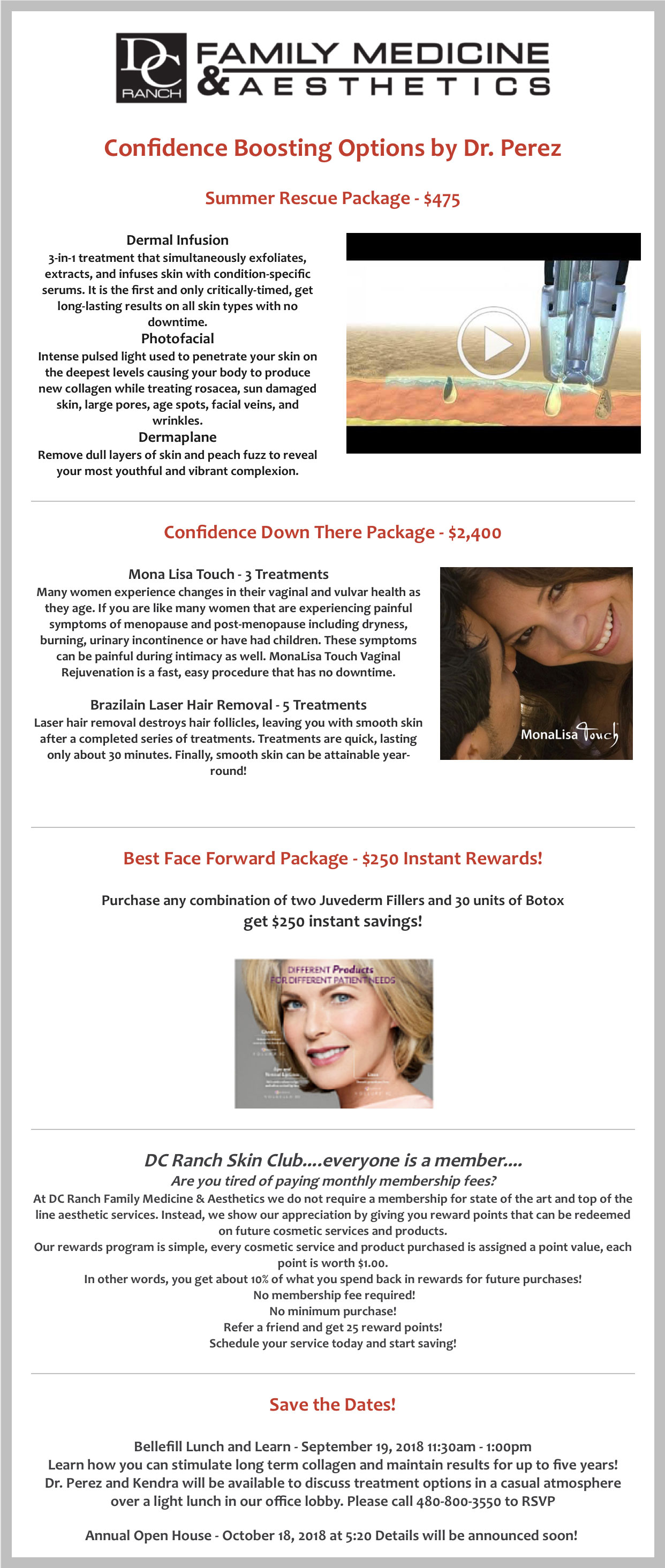 Summer Rescue Package – $475
Dermal Infusion
3-in-1 treatment that simultaneously exfoliates, extracts, and infuses skin with condition-specific serums. It is the first and only critically-timed, get long-lasting results on all skin types with no downtime.
Photofacial
Intense pulsed light used to penetrate your skin on the deepest levels causing your body to produce new collagen while treating rosacea, sun damaged skin, large pores, age spots, facial veins, and wrinkles.
Dermaplane
Remove dull layers of skin and peach fuzz to reveal your most youthful and vibrant complexion.
Confidence Down There Package – $2,400
Mona Lisa Touch – 3 Treatments
Many women experience changes in their vaginal and vulvar health as they age. If you are like many women that are experiencing painful symptoms of menopause and post-menopause including dryness, burning, urinary incontinence or have had children. These symptoms can be painful during intimacy as well. MonaLisa Touch Vaginal Rejuvenation is a fast, easy procedure that has no downtime.
Brazilain Laser Hair Removal – 5 Treatments
Laser hair removal destroys hair follicles, leaving you with smooth skin after a completed series of treatments. Treatments are quick, lasting only about 30 minutes. Finally, smooth skin can be attainable year-round!
Best Face Forward Package – $250 Instant Rewards!
Purchase any combination of two Juvederm Fillers and 30 units of Botox get $250 instant savings!
DC Ranch Skin Club….everyone is a member….
Are you tired of paying monthly membership fees?
At DC Ranch Family Medicine & Aesthetics we do not require a membership for state of the art and top of the line aesthetic services. Instead, we show our appreciation by giving you reward points that can be redeemed on future cosmetic services and products.
Our rewards program is simple, every cosmetic service and product purchased is assigned a point value, each point is worth $1.00.
In other words, you get about 10% of what you spend back in rewards for future purchases!
No membership fee required!
No minimum purchase!
Refer a friend and get 25 reward points!
Schedule your service today and start saving!
Save the Dates!
Bellefill Lunch and Learn – September 19, 2018 11:30am – 1:00pm
Learn how you can stimulate long term collagen and maintain results for up to five years!
Dr. Perez and Kendra will be available to discuss treatment options in a casual atmosphere over a light lunch in our office lobby. Please call 480-800-3550 to RSVP
Annual Open House – October 18, 2018 at 5:20 Details will be announced soon!